Agronomy Research Station - Stillwater
The Stillwater Agronomy Research Station features nearly 300 total multidisciplinary and multi-departmental research experiments on over 900 total acres of land at three separate locations.
Research Focus
A number of research initiatives utilize the Stillwater Station as a focal point due to the convenient proximity to the University's main campus. Wheat Breeding, Grass Breeding, Soil Fertility, Weed Science and Forages make up the predominant portion of research.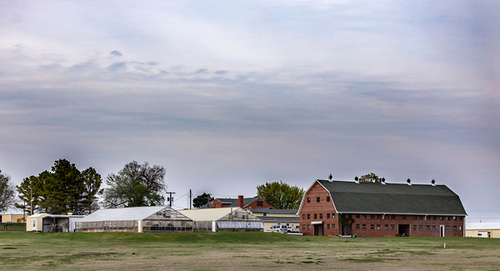 The Stillwater Station is also home to the Magruder Trials and Historic Barn A, both of which are listed in the Federal Register of Historic Places due to their significance in Oklahoma History and the impact each has had on agriculture. The Stillwater Station boasts a number of secondary buildings which are used for office space, equipment storage and greenhouse space.
Size and Location
The primary station is located at the corner of6th Street and Western Road in Stillwater, Oklahoma.
185 Acres within the South 1⁄2 of Section 16-19-2E house over 45 full time
or part time OSU faculty or staff. The Stillwater soil profile consists primarily of Kirkland Silt Loam, Norge Loam and Easpur Loam at varying degrees of slope.
As mentioned previously, the Stillwater Agronomy Research Station features two additional sites in conjunction with the main facility. Our Efaw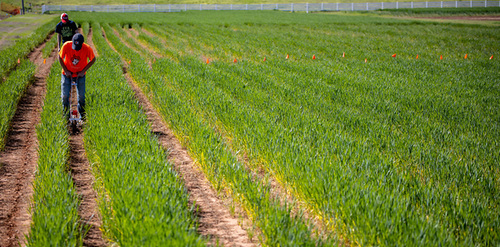 site carries the last name of Mr. Paul Efaw who owned the property prior to OAES. The entrance to the Efaw farm is located at the corner of Sangre Road and McElroy Road in Stillwater. The Efaw farm consists of 90 acres split between the Southwest 1⁄4 of 8-19-2E and the Southeast 1⁄4 of 9-19-2E in Payne County. The Efaw soil profile is primarily Easpur Loam with 0 to 1 percent slope and Norge Loam with 3 to 5 percent slope.
The third location of the Stillwater Agronomy Research Station is on State Highway 86, 2.5 Miles North of State Highway 51, just West of Lake Carl Blackwell. Given the location and proximity to the Lake, it is referred to as the Lake Carl Blackwell location. This sprawling and rugged piece of property represents over 600 of the 900 acres of the Stillwater station. The majority of the property is located in the South 1⁄2 of section 3-19-1E and the Southeast 1⁄4 of section 4-19-1E with a remaining tract in the Northeast section of 10-19-1E. Many different soil profiles are represented at varying degrees of slope, with Pulaski Fine Sandy Loam and Port Silt Loam with 0 to 1 percent slopes representing the majority of the classification.
Meet the Team