OSU researchers seek to make hops a new Oklahoma crop
Thursday, September 8, 2022
Media Contact: Alisa Boswell-Gore | Agricultural Communications Services | 405-744-7115 | alisa.gore@okstate.edu
Oklahoma State University just kicked off its football season with a change to one of football's biggest staples: Beer.
Last month, Stillwater's Iron Monk Brewing Company released a blonde ale called 1890 Original, which is now the official craft beer offered at OSU football games.
But what fans inside Boone Pickens Stadium may not know is the university has had a long relationship with craft beer.
"People like to go out and buy local beer because they can be in the place where it was brewed," said Charles Fontanier, associate professor in the OSU Department of Horticulture and Landscape Architecture. "If a business can have a beer that is 100% Oklahoma ingredients, that elevates the whole industry to be able to say that. OSU Ag Research and Extension can help facilitate a connection between brewers and potential producers to help create that market and an interest in it."
Five years ago, Bruce Dunn, a professor in the horticulture and landscape architecture department, decided to throw hops into his greenhouse mix because he had some extra space.
"It grew well but was attacked by spider mites, so I took it out to The Botanic Garden at OSU, and I was surprised to see it did really well there," Dunn said. "One year, I harvested a trash bag full of a few different varieties, and I took that bag to Iron Monk, and they said they would see what they could do with it. A couple of weeks later, they called me and said they had made a batch with it."
Armed with the knowledge that hops could do well in both greenhouse and field environments, Dunn approached Fontanier.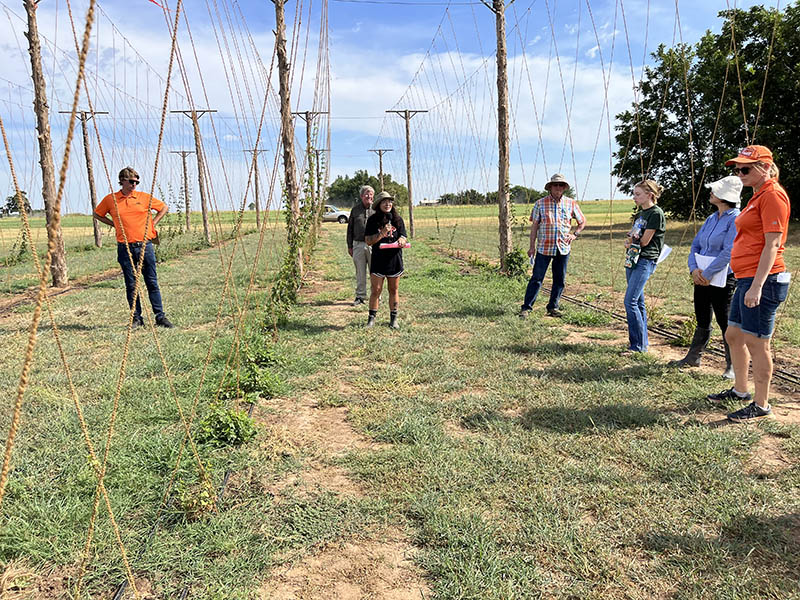 "What I really wanted to see was if we could grow better yields or higher quality plants in a greenhouse compared to field production," Dunn said.
Fontanier said to their knowledge, OSU is one of only three hops growers in Oklahoma. Fontanier, Dunn and doctoral student Katie Stenmark want to change that.
"The specific goal is to verify that quality hops can be grown in Oklahoma and to select the cultivars that grow best here, so we can create a local source of hops for Oklahoma craft breweries," said Stenmark, who is working on the project for her dissertation.
Oklahoma brewers have access to the other three main ingredients in beer production: water, grain and yeast.
"We have all three of those in Oklahoma, but what we do not have is a local source of hops," Stenmark said. "So, with the growing industry we have, it would be nice to see Oklahoma have that specialty crop."
Stenmark, who works for Iron Monk, said when the brewery opened its doors in 2015, it was one of five craft breweries in Oklahoma. Now, there are over 67 craft breweries in the state.
"This would be a very high value crop for an Oklahoma grower to be informed about," Stenmark said.
And gathering information is the entire goal of the hops research project.
Stenmark said the idea began with a three-year survey asking Oklahoma craft brewery professionals what cultivars of hops they would be interested in seeing grown in Oklahoma. Researchers then selected cultivars based on early to mid- and late-season ripening as well as specific aromatic qualities and essential oil profiles.
The in-field project is growing eight varieties of hops, and three of them show strong potential. Three of the greenhouse project's five varieties are growing well and two are not, Dunn said. The goal of the greenhouse project is to get both a fall and spring harvest.
"At this point, we are taking visual information on what the hops cones are doing," Fontanier said. "There shouldn't be any discrepancies between what a variety of hops smells like and looks like in Oklahoma compared to the Pacific Northwest, but we want to verify that."
For the in-field project, Stenmark's team is studying the maintenance style of the hops trellis, the height of the canopy and the number of cones grown, as well as identifying the timing and sequence of how they grow. They will study what it takes to harvest the crops, and the quality of the crops will be analyzed in a laboratory setting.
"There has become a very high demand for the product of craft beer," Stenmark said. "It would be good to see a lot more OSU Extension fact sheets come out of this project, so that interested growers can have information on what it would take physically and financially to grow this crop. We want to make this as feasible as possible for Oklahoma growers."
For more information about this research or growing hops in Oklahoma, contact Katie Stenmark at katie.stenmark@okstate.edu.