Conserving and Promoting Wise Use of Soil, Water and Other Natural Resources
In recent OSU Ag Research conducted by faculty in the Department of Animal and Food Sciences, there have been three areas of focus:
The use of byproducts from the cotton industry as replacements for roughage, protein and fat in finishing diets for beef cattle
The use of composite beef cattle x dairy cow genetics for non-replacement animals
Improving grazing efficiency through strategic supplementation and virtual fencing
Cattle production is the leading agricultural product in Oklahoma, accounting for nearly $3 billion per year, with Oklahoma ranking in the top five for cattle producing states.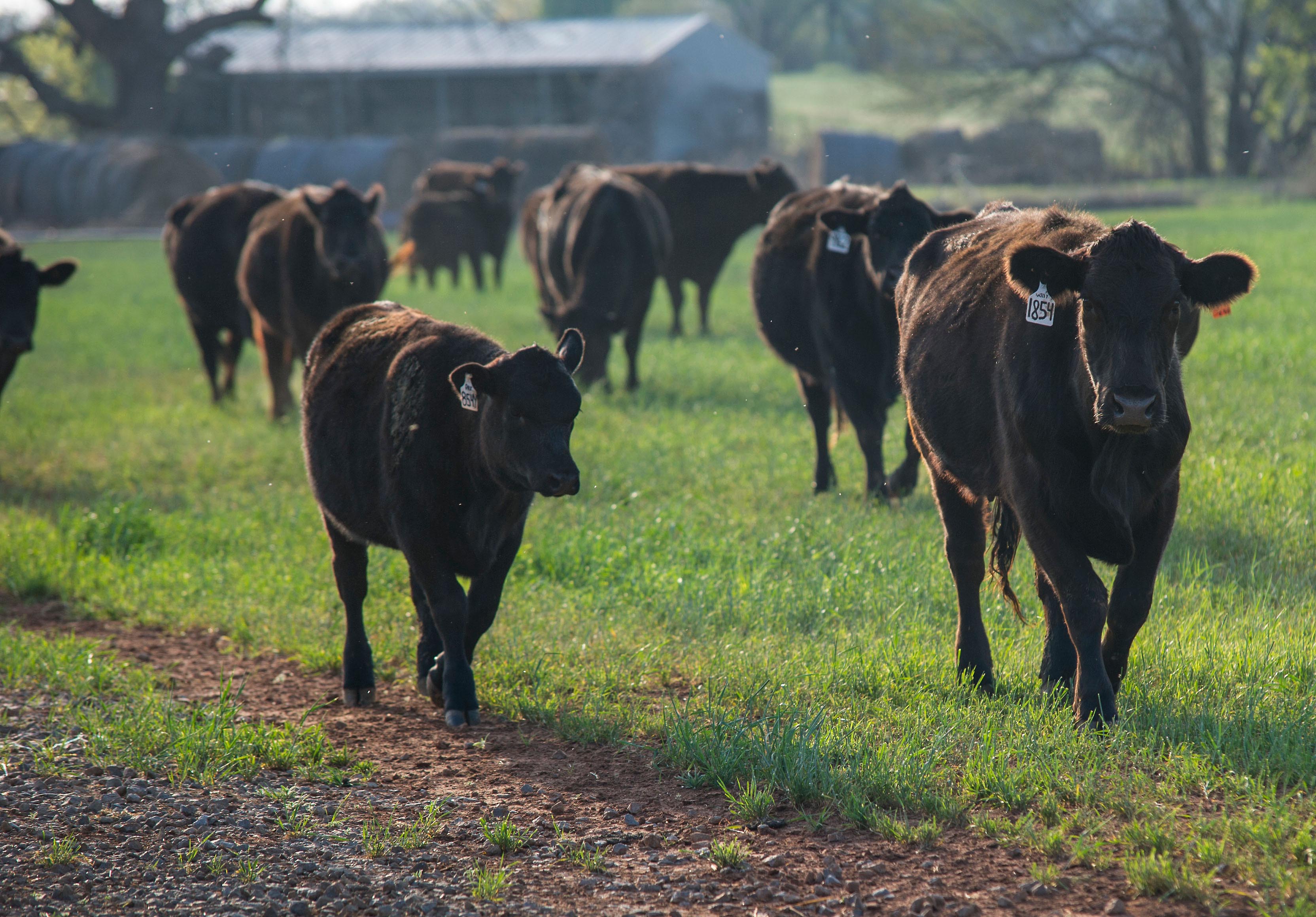 Cows typically graze native pasture, and stockers, or weaned calves, are raised on improved pasture (often dual-purpose wheat) then finished in feedlots. But there are inefficiencies to the production process of cattle that need to be addressed, according to Blake Wilson, assistant professor and Hitch Family Professorship Fellow in Ruminant Feedlot Nutrition, and Paul Beck, associate professor and Dennis and Marta White Endowed Chair.
In finishing and digestibility experiments conducted by Wilson and Beck, one set of cattle was fed a finishing diet containing whole cottonseed and cotton gin trash, while another set of cattle was fed a finishing diet containing more traditional ingredients, such as prairie hay, Sweet Bran commercial product and a liquid supplement. Cotton gin trash is an economical roughage source for cattle that includes burrs, stems and leaves left over after harvesting cotton. Whole cottonseed is the seed left behind after cotton is harvested and contains high protein and fat.
The finishing experiment suggested cotton byproducts can be effectively used as a source of fiber, fat and protein in feedlot rations without adverse effects on performance or carcass characteristics. The digestion experiment suggested there are minimal differences between the digestibility of finishing diets containing cotton byproducts and those composed of traditional finishing diet ingredients.
"If producers or cattle feeders have access to these cotton byproducts, they can be used successfully in a finishing diet without any negative effects," Wilson said.
One of the largest cattle finishing organizations in the world, Cactus Feeders, has used this information to incorporate cotton byproducts into finishing diets in one of their finishing operations.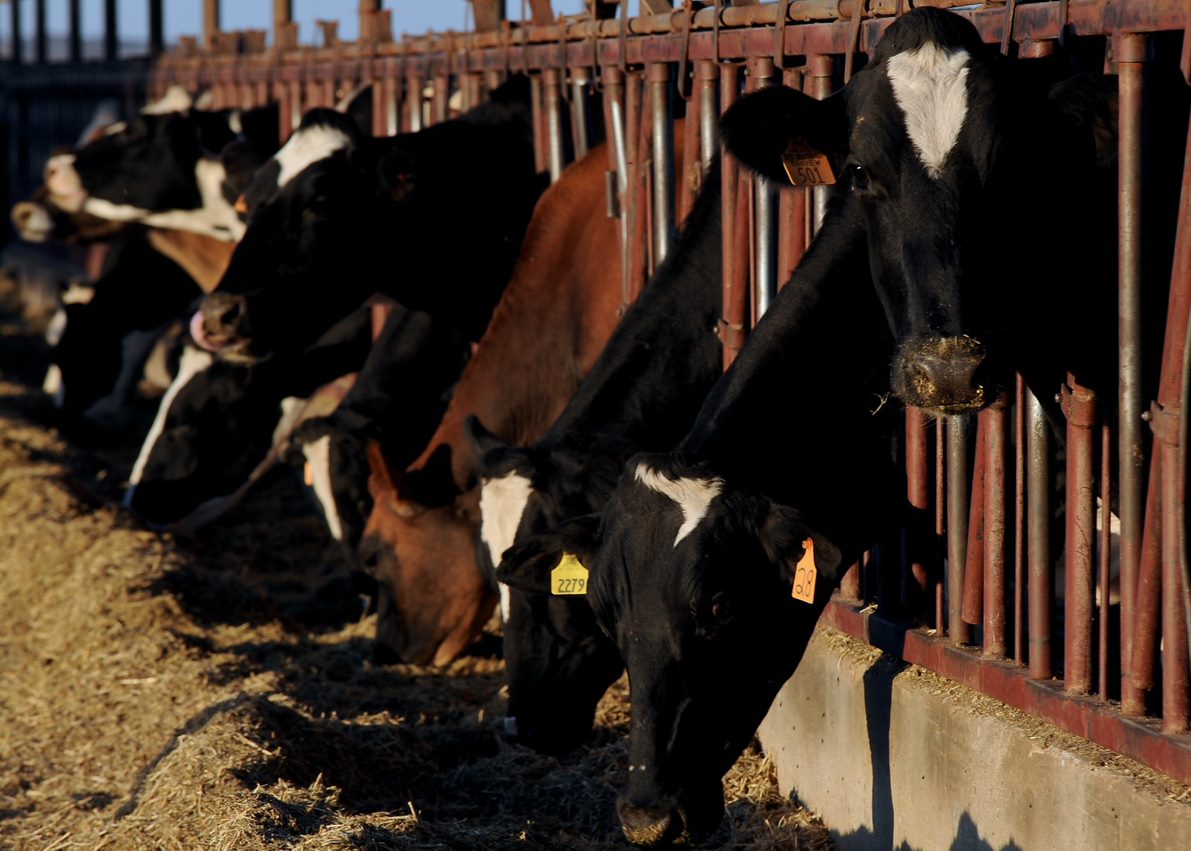 In another experiment conducted by department faculty, beef cattle were crossbred with dairy cattle. When steers are produced from straight dairy lines, they are lighter muscled and larger framed compared to traditional beef animals, with slower growth rates, which results in straightbred dairy steers having less value compared with a beef animal of similar age and weight. When these dairy by beef crossbred steers were placed into the feedlot as lightweight calves, the steers gained almost 4 pounds a day, with 94% of the steers graded as choice meat and 47% graded as upper choice or prime.
At western Oklahoma research sites in Fort Supply and Bessie, Beck compared supplementation programs where cattle were fed a dried distiller grain that has been cubed through a new extrusion process, either during the traditional late summer seasonal slump in cattle performance at a low feeding rate (2 pounds per day) or all summer at a higher feeding rate (0.75% of steer weight per day) with stocking rates increased by one-third.
Distiller grains are a byproduct of the ethanol industry with unique benefits, such as being high in fat (energy) and protein. And because it goes through the fermentation process, it is low in starch, which creates digestible fiber, giving it characteristics that make it high quality for feeding cattle on pasture.
Historically, distiller grain supplements have not been used often with grazing cattle, because it could not be cubed. This new extrusion process packs the supplement into a tight cube using heat and pressure. The supplement being in cube form allows producers to distribute the feed more efficiently, because it can be fed on the ground for cattle to pick up instead of being distributed in feedbunks. The extrusion process also breaks down the fiber in the supplement, which increases the energy and protein availability in the supplement.
After two summers of research, weight gain in cattle increased from 1.7 to 1.8 pounds per day to 2.3 to 2.6 pounds per day during the early summer months. That is a body weight gain increase of two times the previous gain. The net return per acre was more than tripled with supplemented cattle compared to cattle that were not supplemented and more than doubled on a per steer basis.
The same research conducted in eastern Oklahoma in Haskell, a much higher rainfall area with cattle growing on Bermuda grass, showed similar results, with weight gain increasing by half a pound per day in the early summer and by more than half a pound in the late summer. Cattle producers have shown high interest in this new supplementation system of production.
The research highlighted above promotes animal well-being and improves Oklahoma and national cattle production by offering cattle producers more effective feed alternatives, which allows for healthier and heartier beef products that are produced more quickly.